Renewal of Payroll Prepayment Service "SOKKYU byGMO" to New System
~Providing prepayment of salaries with high needs for workers to secure human resources at companies~
Tweet
September 26, 2022
​
GMO Payment Gateway, Inc.
The GMO Internet Group will develop comprehensive payment-related and finance-related services. GMO Payment Gateway, Inc. (TSE Prime: Securities Code: 3769, President & Chief Executive Officer: Issei Ainoura hereinafter referred to as GMO-PG) Sumitomo Mitsui Banking Corporation (President and Chief Executive Officer: Makoto Takashima hereinafter referred to as "SOKKYU byGMO a payroll prepayment service for corporations developed in partnership with SMBC) will be renewed to a new system from September 26, 2022 (Monday). In this renewal, we are working to significantly revamp the corporate management screen and the worker's use screen, and to improve the function that leads to improved operational efficiency on the company side and the operability of workers, making it more convenient for both companies and workers and "SOKKYU byGMO" will be available.
GMO-PG provides "SOKKYU byGMO," a payroll prepayment service with high needs among workers, to companies that have issues securing human resources due to the declining labor force and diversification of work styles, in order to improve recruitment capabilities and retention rates. Going forward, we will continue to support companies facing social issues and changes with payment and finance-related services toward the realization of a sustainable society.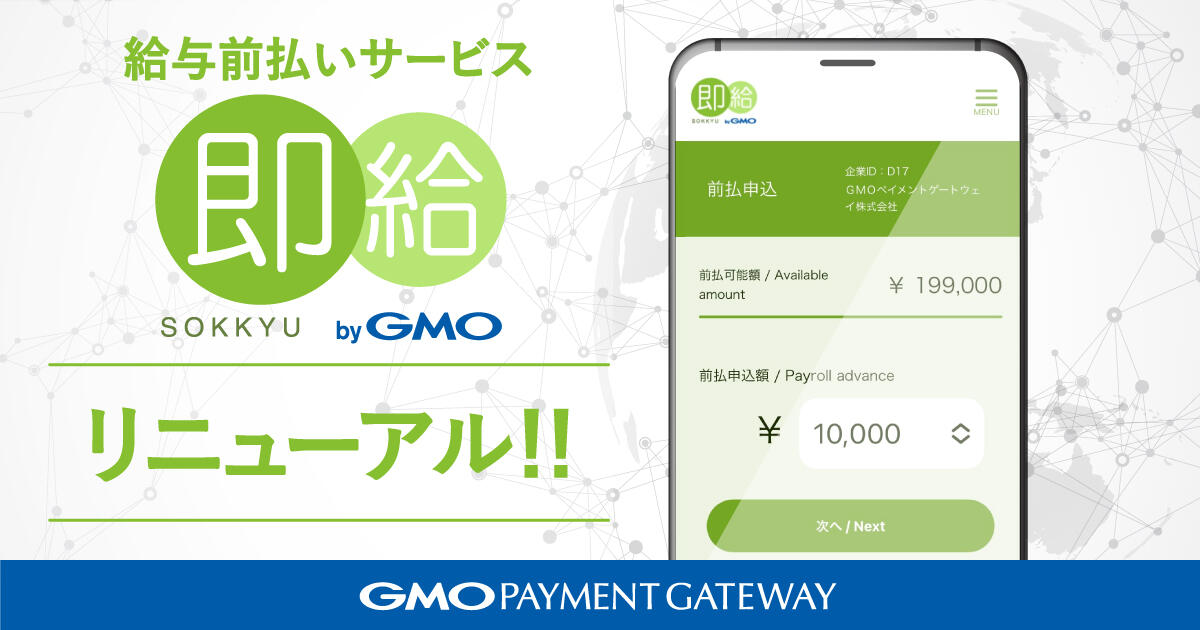 Recently, due to the decrease in the labor force due to the declining birthrate and aging population, an increasing number of companies are facing the challenge of securing human resources. On the other hand, as the working styles of workers and the way companies employ themselves are diversifying, flexible ways of receiving salaries are required, and payment salaries at a timing that meets the needs of workers is one of the measures for companies to secure human resources.
Against this backdrop, GMO-PG has partnered with SMBC to provide a payroll prepayment service for corporations, SOKKYU byGMO. Since the launch of the service in July 2021, many companies have introduced it, and there have been cases that have led to human resource recruitment, such as a major logistics company that increased the job application rate by about 30% after introduction.
GMO-PG SOKKYU byGMO is pleased to announce that the SMBC Group's Sakura Information Systems Co., Ltd. (President and CEO: Hiroaki Shigesada hereinafter referred to as "Sakura Information Systems)" and jointly develop the system, We will renew to the new system. With this renewal, "SOKKYU byGMO Companies that have introduced the system can streamline the operation of salary advance payments to workers by linking APIs with attendance systems, etc., registering and managing simple worker information using the existing labor management system as it is, and automatically transmitting login URLs and various information at the time of new employee registration. In addition to enabling workers to apply for and receive salary advance payments with intuitive operation, the convenience of workers whose Japanese is not their native language is also improved by writing both Japanese and English. In addition, the robustness and security aspects of the entire system have been strengthened, so that you can use it more safely and securely.
The assets of the salary advance payment office agency service "Instant Pay" that SMBC and Sakura Information Systems have been developing since 2007 are included in GMO-PG's It is a salary advance payment service that combines the knowledge of payment and Remittance Service. In Japan domestic companies, it is common for salaries to be paid in full in cash or Bank transfer on a predetermined date, but companies that have introduced this service, It will be possible to realize the needs of workers who want to receive a part of their salary at the timing they need before the prescribed date.
In addition to meeting the daily payment needs of non-regular employees and part-time workers, it is also possible to support workers who have sudden expenses such as receiving flexible salaries for young employees and ceremonial ceremonies. We will accelerate the on-demand and digitization of salary remittances to support the diversifying working styles of workers and the ideal form of corporate employment.
More than 100,000 merchants, including online businesses such as online shops, NHK, National Tax Agency, and public entity in Tokyo, etc., We provide payment-related services and finance-related services. Focusing on payment services, we utilize value-added services and finance technologies that contribute to the growth of merchants payment method We provide services that meet funding needs, and our annual Transaction value exceeds 10 trillion yen. (Consolidated figures as of the end of June 2022)
As a leading company in the payment industry financial institution, we provide various Provision of payment and finance-related solutions and platforms, infrastructure of payments and so on. We are also promoting global expansion such as the development of payment-related services overseas and strategic investment and financing of cutting-edge FinTech companies overseas. We will continue to drive new innovations and contribute to the realization of a sustainable society and the progress and development of society.
GMO Payment Gateway, Inc.
Corporate Value Creation Strategy Division Public Relations/UX Design Department
TEL

+81-3-3464-0182
GMO Internet Group Inc.
Group Communication Department Public Relations Officer Terayama
TEL

+81-3-5456-2695

E-mail

pr@gmo.jp
[Contact for inquiries regarding services]
GMO Payment Gateway, Inc.
Corporate Value Creation Strategy Division
Corporate Planning / New Business Creation Department
E-mail

soku9@gmo-pg.com
[GMO Payment Gateway, Inc.] (URL: https://www.gmo-pg.com/)
| | |
| --- | --- |
| Corporate Name | GMO Payment Gateway, Inc. (TSE Prime Securities Code: 3769) |
| Location | 1-2-3 Dogenzaka, Shibuya-ku, Tokyo Shibuya Fukurasu |
| Representative | President & Chief Executive Officer Issei Ainoura |
| Business Description | ■ Comprehensive payment related services and finance related services |
| Capital | 13,323 million yen |
【GMO Internet Group Inc.】 (URL: https://www.gmo.jp/)
Corporate Name
GMO Internet Group, Inc. (TSE Prime Securities Code:9449)
Location
Cerulean Tower 26-1, Sakuragaoka-cho, Shibuya-ku, Tokyo
Representative
Representative Director and Group Representative Masatoshi Kumagai
Business Description
■ Internet infrastructure business
■ Internet advertising / media business
■ Internet finance business
■ Cryptographic assets business
Capital
5 billion yen