Introducing Condo Pay byGMO to Japan's Largest Skill Market coconala
~Developing GMO-PG buy now pay later payment for services and contents in the skill-sharing area~
Tweet
May 23, 2022
​
GMO Payment Gateway, Inc.
The GMO Internet Group will develop comprehensive payment-related and finance-related services. GMO Payment Gateway, Inc. (TSE Prime: Securities Code: 3769, President & Chief Executive Officer: Issei Ainoura hereinafter referred to as GMO-PG) "Condo Pay byGMO", a buy now pay laterpayment service for services and contents, coconala Inc.(TSE Growth: Securities Code: 4176, Chief Executive Officer: Ayumu Suzuki) will provide it to Japan's largest skill market "coconala", which buys and sells the strengths of the ) from today, May 23, 2022 (Monday).
GMO-PG is expanding the scope of its Condo Pay byGMO, from digital content and online donation to skill-sharing.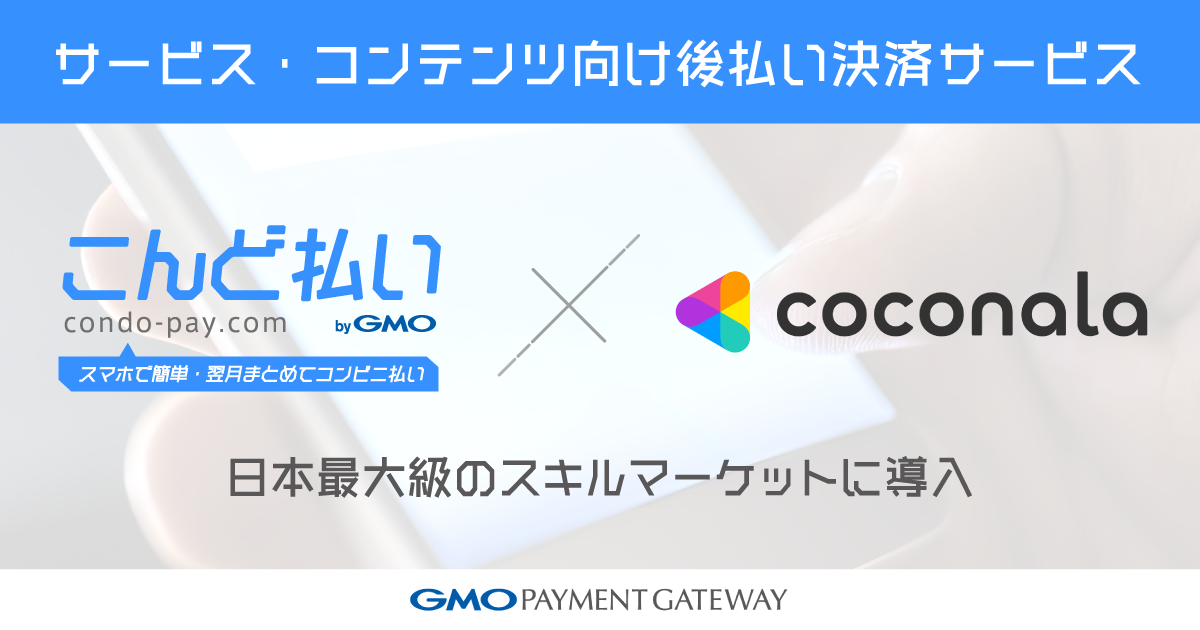 The domestic buy now pay laterpayment market continues to expand, increasing by 27.9% year-on-year to 879 billion yen in fiscal 2020 and exceeding 1.9 trillion yen in fiscal 2025 (* 1)。 Against this backdrop, GMO-PG uses "payment by authenticating telephone numbers and e-mail addresses" and "payment of usage fees in a lump sum to convenience stores the following month" for services and contents buy now pay later We provide payment service "Condo Pay byGMO".
GMO-PG expands the use of online buy now pay laterpayment and makes it more convenient for users payment In order to provide an environment, we are expanding the scope of "Condo Pay byGMO" service, and this time "Condo Pay byGMO" to the Skillshare area. From May 23, 2022 (Monday), we will provide Credit card payment to Japan's largest skill market "coconala" for a long time. In addition to CVS Payment, etc., we provide "Condo Pay byGMO".
As a result, in "coconala", it is also used as a payment method in CtoC and CtoB transactions buy now pay later It will be possible to provide services, and it is expected to capture a user base that thinks "I can not have a credit card / I do not want to use it much" or "I want to payment after using the service".
Source: Yano Economic Research Institute, Inc., "Survey on the E-Commerce payment Service Market (2022)" (announced on April 13, 2022)
This is a buy now pay laterpayment service that GMO-PG has been providing since May 2020, mainly to service and content providers. Based on the concept of "Buy now and pay now", "payment by verifying your phone number and e-mail address" and "Payment of usage fees at convenience stores the following month" are based on the buy now pay later Enables
▼ Merits for users
・ Since a telephone number and e-mail address are used for authentication at the time of payment, anyone with a smartphone can use it (*2).​
・ There is no need for prior member registration, download of the dedicated application, and charge are unnecessary, and the screening result can be confirmed in real time as about 1 second, so you can use it immediately after passing the screening.
・ You can payment at a convenience store at any time during the next month by summarizing the usage amount for one month (total for all affiliated stores), so you can purchase even if you do not have cash at hand.
▼ Merits of business operators
・GMO-PG bears the risk of uncollected data, and GMO-PG will payment regardless of the user's payment status.(※3)
・ You can expect to acquire a new layer of customers, including those who do not have credit cards.
・ Because it is a payment method that users can use easily and conveniently, a high purchase rate can be expected.
*2 There is a GMO-PG review for use. Depending on the screening results, it may not be available.
*3 Transactions that have passed through GMO-PG credit check and have been successfully completed are eligible.
It is a skill market where you can purchase knowledge, skills, and experience. From private to business, more than 520,000 (*4) services of 450 types are listed. It is a service marketplace that has everything from a little trouble to what you want to ask an expert. In addition to "production" such as design, website production, video / music production, writing, etc., it is possible to buy and sell a variety of services regardless of the scene, from business to private life, from "support / agency" such as business marketing to "consultation system" such as fashion and career consultation. In addition, we respond to a wide range of needs, from listing and purchasing services to solicitation and proposal of projects we would like to request.
The number of registered members has reached 2.79 million(*4).​
As of February 2022
Comprehensive to more than 100,000 affiliated stores such as online businesses such as online shops, NHK, public entity national tax Agency, Tokyo Metropolitan Government, etc. We provide payment-related services and finance-related services. Focusing on payment services, we utilize value-added services and finance technologies that contribute to the growth of franchisees payment method and provide services that meet financial needs, and the annual Transaction value exceeds 9 trillion yen. (Consolidated figures as of March 31, 2022)
As a leading company in the payment industry, we will provide various types of services to operating companies and financial institution that promote cashless and DX. Provision of payment and finance-related solutions and platforms, infrastructure of payments We are doing such as: We are also promoting global expansion such as the development of payment-related services overseas and strategic investment and financing of cutting-edge FinTech companies overseas. We will continue to drive new innovations and contribute to the realization of a sustainable society and the progress and development of society.
GMO Payment Gateway, Inc.
Corporate Value Creation Strategy Division Public Relations/UX Design Department
TEL

+81-3-3464-0182
GMO Internet Group
Group Communication
TEL

+81-3-5456-2695

E-mail

pr@gmo.jp
[Contact for inquiries regarding services]
GMO Payment Gateway, Inc.
Innovation Partners Division
TEL

+81-3-3464-2323

E-mail

info@gmo-pg.com
[GMO Payment Gateway, Inc.] (URL: https://www.gmo-pg.com/)
| | |
| --- | --- |
| Corporate Name | GMO Payment Gateway, Inc. (TSE Prime Securities Code: 3769) |
| Location | 1-2-3 Dogenzaka, Shibuya-ku, Tokyo Shibuya Fukurasu |
| Representative | President & Chief Executive Officer Issei Ainoura |
| Business Description | ■ Comprehensive payment related services and finance related services |
| Capital | 13,323 million yen |
[GMO Internet, Inc.] (URL: https://www.gmo.jp/)
Corporate Name
GMO Internet, Inc. (TSE Prime Securities Code: 9449)
Location
Cerulean Tower 26-1, Sakuragaoka-cho, Shibuya-ku, Tokyo
Representative
Representative Director and Group Representative Masatoshi Kumagai
Business Description
■ Internet infrastructure business
■ Internet advertising / media business
■ Internet finance business
■ Cryptographic assets business
Capital
5 billion yen