Online infrastructure of payments for startups "fincode byGMO", 
payment method add Apple Pay to
~Integrated API reduces implementation costs and makes it possible to accept payment with "Apple Pay"~
Tweet
July 19, 2023
​
GMO Epsilon, Inc.
GMO Internet Group is GMO Payment Gateway, Inc. (hereinafter referred to as "GMO-PG") consolidated company. GMO Epsilon, Inc. (Chairman & Chief Executive Officer: Tomoyuki Murakami GMO-EP) is an online product designed to help startups succeed from Tuesday, July 18, 2023. infrastructure of payments "fincode byGMO" (URL:​ "Apple Pay" has been added to the payment method of https://www.fincode.jp/).
The companies that have introduced "fincode byGMO" are Credit card payment and CVS PaymentUsing the integrated API, it is possible to accept payment by "Apple Pay" in your own web application, smartphone application, etc.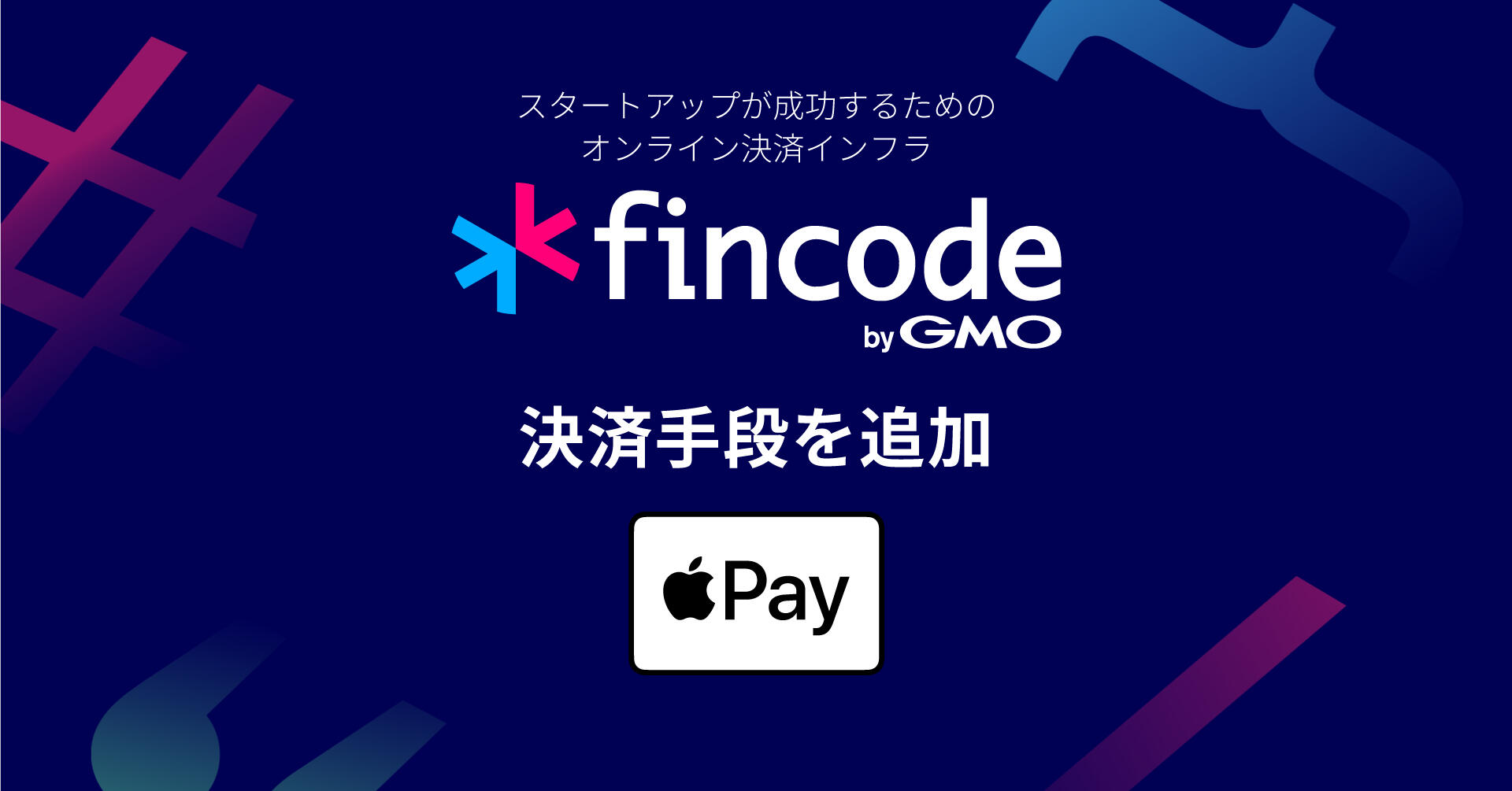 Many startups in Japan Japan are working on business growth with a high sense of speed with limited personnel. Therefore, payment functions that are not the core of services and products are required to be "quick to implement", "easy to implement", and "simple fee structure". Against this background, GMO-EP is an online solution to the payment field issues of startups by utilizing the knowledge and development capabilities in payment that GMO-PG has cultivated as a group. infrastructure of payments "fincode byGMO" has been available since May 2022.
"fincode byGMO" is regularly updating according to the times while actively incorporating the business needs of start-ups and the voices of engineers and introducing companies. We have added "Apple Pay" (*1) as a payment method.
"Apple Pay" is a cashless payment service provided by Apple Inc. Users can securely Credit card payment with only biometric approvals such as Touch ID and Face ID, without manually entering information. Therefore, EC operators can reduce the occurrence of "basket dropping" due to user input errors and "chargeback" due to fraud.
As online payment demand more convenient and secure payment method, "fincode byGMO" Introducing companies will be able to provide "Apple Pay" as a payment method. Since the API is integrated with Credit card payment and CVS Payment, "fincode byGMOIntroducing companies will be able to accept payment by "Apple Pay" in their web applications, smartphone apps, etc. with low implementation and learning costs.
"fincode byGMO" comprehensively solves the hidden issues of payment field that occur before and after the service launch of a startup, and at the same time, It is an online infrastructure of payments that seamlessly provides the expansive value required as the business phase progresses.
We cover a wide range of functions and performance required for complex modern business models of platforms, subscriptions, and subscriptions, as well as e-commerce, regardless of whether they are BtoC, BtoB, or CtoC. In addition, we offer a wealth of development support assets that can be accessed online, and our customer success team is familiar with payment, software, and startup business to back up your implementation and operations.
In the PMF (Product Market Fit) phase, which requires lean development, "immediate provision of test environment", "rapid web review", "online guidance that is easy to understand even for engineers who have no experience in payment implementation", " By providing SDKs and UI components that reduce development man-hours, it is possible to implement payment in a short lead time, and it is possible to focus on building your own products.
In addition, in the growth phase, "respond to a wide range of important payment method and various billing systems" and "increase paymentWe back up the strengthening of the user base according to the business model, such as stable processing of transactions, compliance with laws and regulations and security standards with a fast improvement cycle, and registration and management of tenants on the platform.
In both phases, invisible costs such as initial costs, monthly usage fees, account maintenance fees, and transfer fees are thoroughly eliminated, and all functions can be used with only a fee based on the payment amount. The payment method supports credit cards, convenience store payment, PayPay, and Apple Pay, and will be added from time to time.
【About GMO Epsilon, Inc.】
GMO-EP is a business that provides payment processing services with no initial costs or transaction processing fees (*2). As of the end of March 2023, it has been used by 43,242 EC operators. Just by contract GMO-EP, there is no need to build a system for each payment processing business Credit card paymentCVS Payment, E-wallet, smartphone carrier payment, etc.payment methodIn addition to being able to use the delivery service all at once, the product price collected from the purchaser and the freight rate for delivery are also settled at once, so it is possible to greatly reduce labor and costs. In addition, in order to support the smooth cash flow of EC operators, we have finance sales-linked business cards such as "Cycle by GMO", lending, and Remittance Service. Related services are also available. TSE a member of the GMO Internet Group, a company listed on Prime, we have been granted the Privacy Mark for personal information protection, and our security standards comply with PCI DSS and ISMS, making it an environment that customers can use with peace of mind.
Transaction processing fee is the fee charged for each communication with the credit card company for authorization credit card (acquisition of approval number) and billing.
GMO Payment Gateway, Inc.
Corporate Value Creation Strategy Division Public Relations/UX Design Department
TEL

+81-3-3464-0182
GMO Internet Group, Inc.
Group Communication Department Public Relations Officer Yamazaki
E-mail

pr@gmo.jp
[Contact for inquiries regarding services]
GMO Epsilon, Inc.
"fincode byGMO" Support Team
【GMO Epsilon, Inc.】(URL: https://www.epsilon.jp/)
| | |
| --- | --- |
| Corporate Name | GMO Epsilon, Inc. |
| Location | Tokyo Shibuya-ku Dogenzaka 1-chome 14-6 Humax Shibuya Building |
| Representative | Chairman & Chief Executive Officer Tomoyuki Murakami |
| Business Description | ■ Online sales payment processing company, payment collection agency and operations incidental to them |
| Capital | 105 million yen |
[GMO Payment Gateway, Inc.] (URL: https://www.gmo-pg.com/)
| | |
| --- | --- |
| Corporate Name | GMO Payment Gateway, Inc. (TSE Prime Market Securities Code: 3769) |
| Location | 1-2-3 Dogenzaka, Shibuya-ku, Tokyo Shibuya Fukurasu |
| Representative | President & Chief Executive Officer Issei Ainoura |
| Business Description | ■ Comprehensive payment related services and finance related services |
| Capital | 13,323 million yen |
【GMO Internet Group Inc.】 (URL: https://www.gmo.jp/)
Corporate Name
GMO Internet Group, Inc. (TSE Prime Market, securities code: 9449)
Location
Cerulean Tower 26-1, Sakuragaoka-cho, Shibuya-ku, Tokyo
Representative
Representative Director and Group Representative Masatoshi Kumagai
Business Description
■ Internet infrastructure business
■ Internet advertising / media business
■ Internet finance business
■ Cryptographic assets business
Capital
5 billion yen