Members of the Management Department of Payment Service take the stage at "JJUG CCC 2023 Fall"
~Challenge from legacy web services to global standards~
Tweet
GMO Payment Gateway, Inc.
November 2, 2023
Systems Division, GMO Payment Gateway, Inc. (GMO-PG) Members of the Management Department of Payment Service will perform at the "JJUG CCC 2023 Fall" to be held on Saturday, November 11, 2023. Challenge from Legacy Web Services to Global Standards" will be held in a talk session.
In May 2023, GMO-PG announced that the Online Payment Service "PG Multi-Payment ServiceWe have started a new connection method "OpenAPI type".
In this session, we will talk about the challenges, solutions, and results encountered in the process of building a new system based on OpenAPI in order to break away from the conventional legacy system.
Please see "Overview" for details.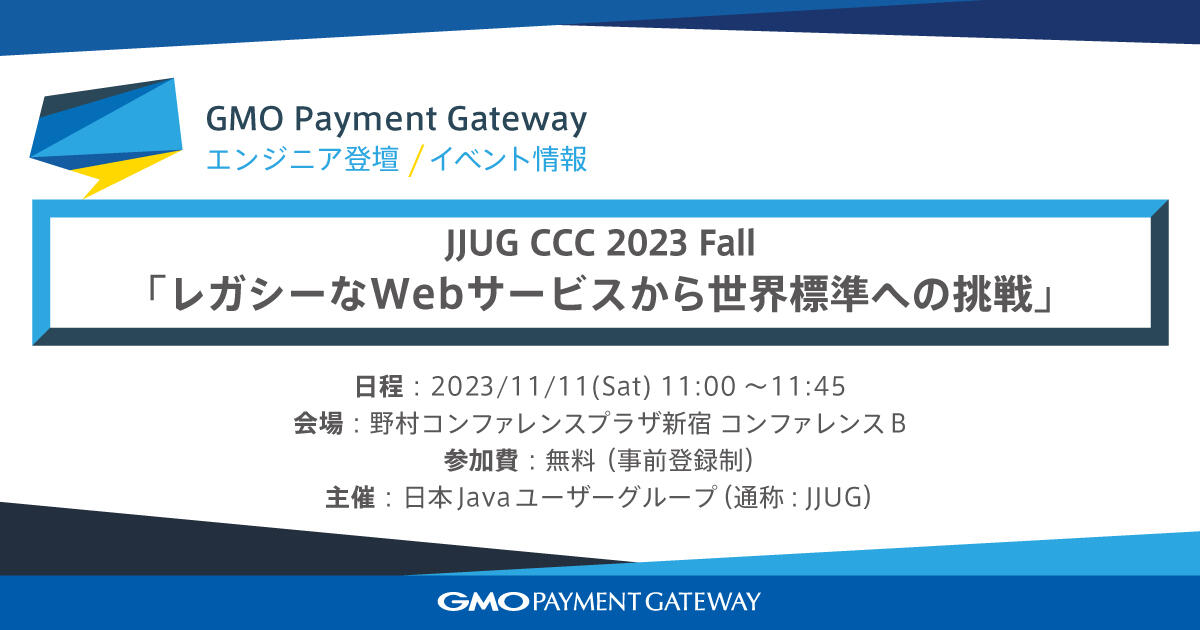 Overview
Title
JJUG CCC 2023 Fall
"Challenging Legacy Web Services to Global Standards"
Schedule
Saturday, November 11, 2023 11:00~11:45
Place
Nomura Conference Plaza Shinjuku Conference B
Fee
Free (pre-registration required)
Organizer
Japan Java User Group (JJUG)
URL
https://jjug.doorkeeper.jp/events/164154