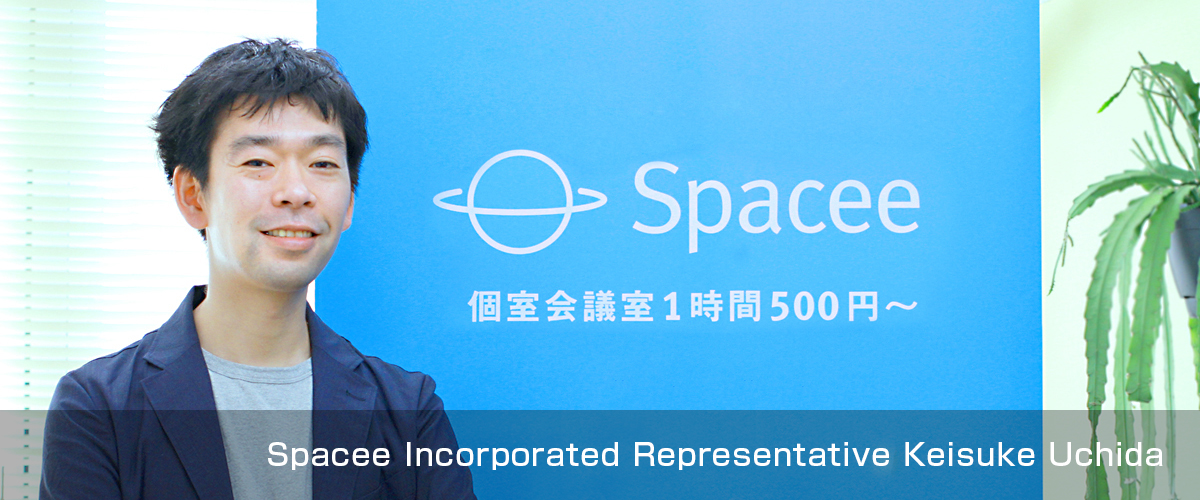 Utilizing "GMO-PG Transaction Lending
Spacey Co., Ltd., who raised funds in a timely manner according to the growth phase.
We talked about the merits of using the service and the effects of its introduction.
This article was published in July 2018.
Task
・ I considered debt financing, but thought that it would be difficult to obtain a loan from financial institution such as a bank due to the nature of the business model.
・ It was necessary to procure investment funds in a timely manner to expand the business, such as increasing the number of registered conference rooms for sharing.
Our company was founded in 2013 and has been raising funds through equity financing (financing with issuance of shares), but since the fall of 2017, we have been using debt financing (financing by borrowing from financial institution I was starting to consider it. As the business entered the stage of further growth, I thought it was necessary to prepare various means of raising funds. On the other hand, I thought it would be difficult to get a loan from financial institution Because, in the case of our business model, if all transaction amounts are the distribution amount, only the net amount that we receive, such as commissions, is recorded as sales, so the number of sales scale is not so large. Also, because we are in the investment stage, we often need funds, and in some months the balance was negative. Of course, it is possible to stop investment and turn the whole into the black, but that could narrow the scope of the business and slow down the speed of growth, which could lead to a fall.

Then, when I started thinking about finding a loan, I received a DM from GMO Payment Gateway and learned about the existence of a service called GMO-PG Transaction Lending As an option of the payment platform "PG Multi-Payment Service" that I have already used, I contract immediately, and the examination went smoothly and I was able to receive the desired amount of loan.
Overwhelming sense of speed
The deciding factors for using it were the overwhelming sense of speed that the procedure was completed within 10 days, and the fact that we could provide a loan of tens of millions of yen with a simple procedure. Also, because I understood our business model and introduced "PG Multi-Payment Service", I made a quick decision on financing based on the data centered on daily sales Actual. It was also helpful to have been able to do it. When I applied for a loan to financial institution, I thought that it would take several months to complete and I would have to prepare a large amount of materials, so I assumed the time and effort to finance. I have the impression that it was reduced to about 1/20.

For those who are starting a business or payment service, the advantage of having a financing option from the beginning should be great. payment service itself is also very efficient because you can introduce payment method at once simply by contract to the PG Multi-Payment Service I want more start-ups to know that there is such a service.

In the future, we aim to further increase the number of registered properties in Spacey's conference rooms to improve convenience. In addition, services that enable more secure use of public Wi-Fi and free Wi-Fi, services that enable attendance management using face recognition and GPS information, and other mechanisms that make it easier to work in environments other than the office. And want to provide services.

Spacey's ultimate goal is to increase work productivity and create a society where everyone can live affluently. By enabling free work styles, we want to create a paradigm shift that opens up the potential that everyone has.
Spacey Co., Ltd.

Operates "Spacey", a sharing service for conference rooms and workspaces. Spacey is a matching service that allows you to easily rent and borrow idle spaces such as vacant spaces in corporate offices and buildings.Registrants post information on conference rooms on Spacey's site, and users can use area, time, Wi-Fi, etc. You can search and make reservations from equipment such as power supplies. It is supported that the conference room can be used at a reasonable price of about 500 yen per hour, and the number of registered properties is about 4,000, the number of registered users is about 130,000, and the total number of users is 200. It reaches 10,000 people (as of June 2018). In addition, recently, in addition to a service that rents out seats as a working space by utilizing the idle time of restaurants, we have expanded the services necessary for remote work, such as starting a low-priced mobile Wi-Fi rental service, and it is growing steadily. Continues.