Payment terminalless cashless payment is possible
~Started QR code payment on the touch panel of the frozen food vending machine "Dohiemon"~
Tweet
October 24, 2022
​
GMO Financial Gate, Inc.
GMO Internet Group GMO Financial Gate, Inc. to develop a face-to-face cashless payment platform ( President & Chief Executive Officer:Kentaro Sugiyama Hereinafter, GMO-FG) is a frozen food vending machine that SANDEN RETAIL SYSTEMS CORPORATION has been selling since the end of January 2021. Cashless payment terminal (CRW-MJC02) at Dohiemon" for "electronic money" and "QR code (*1)" payment We have been promoting the introduction of
This time, in all "Dohiemon" series, there is no need for a new cashless payment terminal, and only touch panel operation on the "Dohiemon" QR code payment" is scheduled to be completed.
GMO-FG is the same as when using a cashless payment terminal in the introduction of "QR code payment" using a touch panel payment It offers a platform. GMO-FG has been supporting terminalless cashless payment in non-physical sales fields such as public transportation such as trains and buses payment the past. This is the payment hand-set service in the merchandise sales field, and is GMO-FG's first initiative in this field.
This will make it possible to promote cashless payments even in Dohiemon locations where cashless payment terminals have not been introduced so far.
The QR code payment service is scheduled to start in mid-December.
The operation of the QR payment on the touch panel in "Dohiemon" is as follows.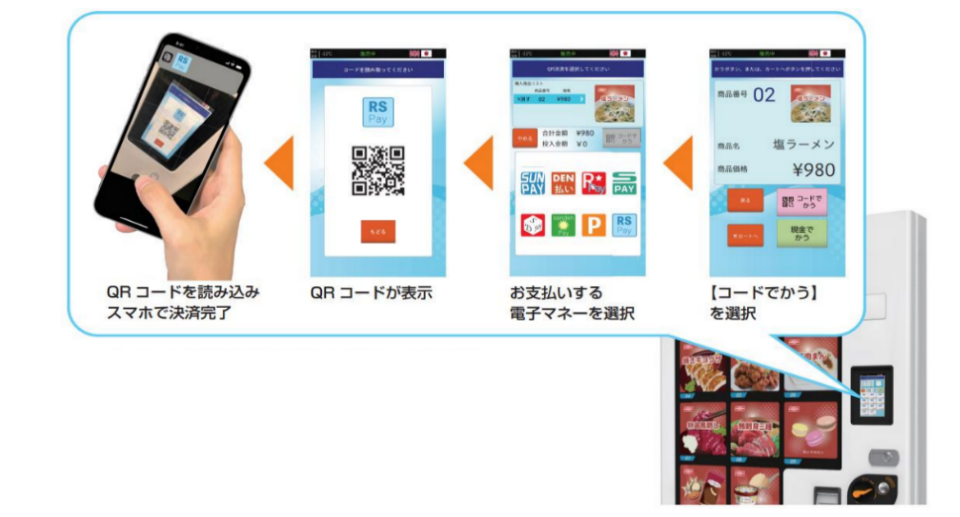 In addition, GMO-FG plans to use this project as an opportunity to expand the scope of payment hand-set services in both content and region, leading to the expansion of cashless services and improved convenience for users.
(*1) "QR Code" is a registered trademark of DENSO WAVE INCORPORATED.

GMO-FG has been a payment processing company business operator centered on credit and debit payment at face-to-face stores for more than 23 years since its establishment in July 1999 Actual We have built trust. As a joint use center for IC cards, we are working to innovate the industry through economic rationality and technological advancement, centered on alliances with overseas handset manufacturers. In addition to CCT terminals (shared-use terminals) such as stationary and mobile devices, we also provide embedded payment services such as automatic payment machines for hospitals and golf courses, and will contribute to society as a change leader in cashless payments.
GMO Financial Gate, Inc.
Corporate Planning Department
E-mail

irpr@mail.gmo-fg.com
GMO Internet, Inc.
Group Communication Department Public Relations Shinno
E-mail

pr@gmo.jp
【Inquiries regarding this matter】
GMO Financial Gate, Inc.
Corporate Planning Department
E-mail

irpr@mail.gmo-fg.com
【Inquiries about Dohiemon】
[GMO Financial Gate, Inc.] (URL: https://gmo-fg.com/)
| | |
| --- | --- |
| Corporate Name | GMO Financial Gate, Inc. (TSE Mothers Securities Code: 4051) |
| Location | 1-14-6 Dogenzaka, Shibuya-ku, Tokyo Humax Shibuya Building 7F |
| Representative | President & Chief Executive Officer Kentaro Sugiyama |
| Business Description | payment processing services business for credit, debit, China UnionPay cards, etc. |
| Capital | 1,617 million yen |
[GMO Payment Gateway, Inc.] (URL: https://www.gmo-pg.com/)
| | |
| --- | --- |
| Corporate Name | GMO Payment Gateway, Inc. (TSE Prime Securities Code: 3769) |
| Location | 1-2-3 Dogenzaka, Shibuya-ku, Tokyo Shibuya Fukurasu |
| Representative | President & Chief Executive Officer Issei Ainoura |
| Business Description | ■ Comprehensive payment related services and finance related services |
| Capital | 13,323 million yen |
【GMO Internet Group Inc.】 (URL: https://www.gmo.jp/)
Corporate Name
GMO Internet Group, Inc. (TSE Prime Securities Code:9449)
Location
Cerulean Tower 26-1, Sakuragaoka-cho, Shibuya-ku, Tokyo
Representative
Representative Director and Group Representative Masatoshi Kumagai
Business Description
■ Internet infrastructure business
■ Internet advertising / media business
■ Internet finance business
■ Cryptographic assets business
Capital
5 billion yen